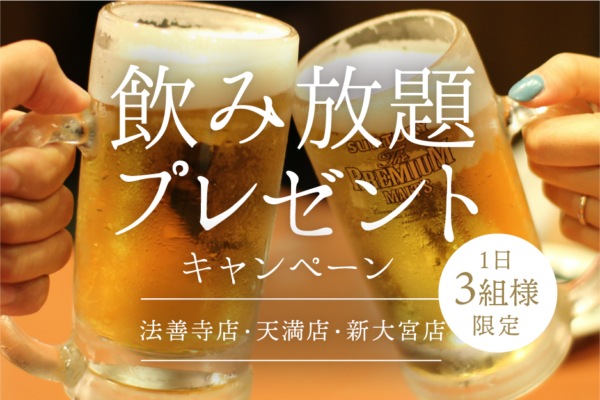 All-you-can-drink included in the Harami Course!
Limited to 3 groups per day!
All-you-can-drink present campaign!
---
Thank you very much for visiting Kitashinchi Harami.
Since our previous all-you-can-drink campaign was so well received, we will be holding an all-you-can-drink present campaign at three of our restaurants this time.
As the city is coming back to life, we invite you to join us for a delicious meal with your partner, that friend who loves meat, or even you who love meat.
Please enjoy a pleasant time with a good drink while eating delicious harami.
*Only 3 couples per day are eligible for this campaign, so please call us as soon as possible before your visit.
===Details of the all-you-can-drink present campaign ===
Period: 11/5 (Sat.) - 11/30 (Wed.)
Target stores: Hozenji, Tenma, and Shin-Omiya
Conditions for participation in the campaign
(1) Make a reservation for the course by phone.
(2) Tell the staff the password on the phone.
The password: "3-pair limited all-you-can-drink campaign"].
Due to popular demand, all courses are now available!
This campaign is only for those who make a reservation by phone and order a course meal.
Only available for visits during the month of November.
*Some items on the drink menu may differ from the regular menu.
We are very happy if we can repay you with a little of our appreciation for your continued support!
We look forward to seeing you at our restaurant.